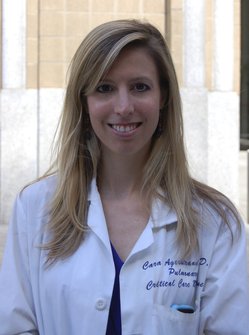 Cara Agerstrand
Cara Agerstrand, M.D.
622 West 168th Street, PH 8-101— New York, New York 10032
Phone: +1.585.415.9225 — E-Mail: ca2264@cumc.columbia.edu
Dr. Cara Agerstrand is an Assistant Professor of Medicine in the Division of Pulmonary, Allergy & Critical Care Medicine and the Associate Director of the Medical ECMO Program at Columbia University Medical Center / NewYork-Presbyterian Hospital in New York, New York, which is one of the largest ECMO centers in North America. She has extensive experience using ECMO to treat adults with acute respiratory and combined cardiopulmonary failure, both as a bridge to transplantation and bridge to recovery. Dr. Agerstrand has significant experience in ECMO simulation and is well published in field of ECMO, including in the use of ECMO during pregnancy and the postpartum period and in hematologic considerations & blood transfusion requirements during ECMO. She currently serves on the ELSO Steering Committee as an At-Large Member.