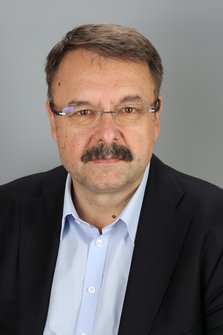 Jaroslav Lindner
Professor Jaroslav Lindner
Jaroslav Lindner, MD, PhD, FICS, Charles University First Faculty of Medicine and General University Hospital in Prague . Jaroslav Lindner MD is a Professor of Surgery and Chief of Cardiovascular Surgery Department and the Director of Czech National Pulmonary Endarterectomy program.Dr. Lindner received his medical degree from the Charles University in Prague and there completed his surgical training from General , Vascular and Cardiac Surgery.
Dr Lindner comlete his professional training at the University of Edinburg, Royal Infirmary, Vascular Surgery Department 1993 ( honorary clinical assistant) Prof. Ruckley,Texas Heart Institut,Cardiovascular Surgery Department, 1995 (3 months) Prof. Georg Reul,Training course in Mitral Surgery, Paris, 2002 Prof. Carpentier and Prof.Cox,Postgraduate course in Atrial Fibrilation Surgery, Bochum 2001,Germany,Training course in Cardiac Surgery, Erice, Italy 2003,Postgraduate course in Pulmonary hypertension, Mainz, Germany, 2004, Prof. E.Mayer and at the University of California San Diego –Pulmonary hypertension, 2007, Prof. S.Jamieson and prof. M.Madani.
Dr. Lindner's clinical interests include pulmonary endartectomy (PEA), aortic surgery, as well as surgical treatment for heart failure,  including extracorporeal membrane oxygenation.
He is currently a member of various national and international society (STS, EACTS, ICS) and committees  and is actively involved in clinical research. His research interests are related to vascular transplantation , ECMO, pulmonary hypertension and PEA surgery.