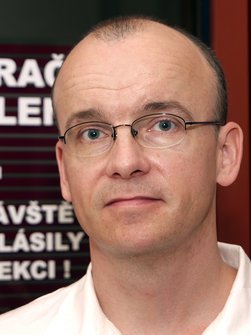 Martin Balik
Head of intensive care of the General University Hospital in Prague. Assistant Professor in Anaesthesia and Intensive Care at the 1stMedical Faculty of Charles University in Prague since 2009.
Member of European Society of Intensive Care Medicine and European Society of Cardiology (ESC), scientific secretary of Czech Society of Intensive Care, member of the steering board of Czech Society of Anaesthesiology and Intensive Care, Head of the Ultrasound Section. Board of EDEC (European Diploma in Echocardiography, ESICM) since 2015, past member of EDIC subcommittee (European Diploma in Intensive Care, ESICM) 2012-2015. EDEC and EDIC examiner.  
Graduated in 1994 and completed his national qualifications in anaesthesia and intensive care in 2001 and in intensive care in 2008. Pregraduate and postgraduate elective attachments in the UK (general intensive care, Bradford 1993, Leeds 1994), completed internships in Austria (cardiothoracic intensive care, Salzburg 2000, Graz 2001). EDIC in 2002. Intensivist and echocardiographist in Westmead and Nepean Hospitals in Australia in 2004-2005. European Accreditation in Transthoracic Echocardiography (ESC) in 2006, reaccredited in 2013. Ph.D. in Biochemical Sciences (Charles University) completed in 2006. Publishing and lecturing particularly in the field of cardiology, nephrology, ultrasound applications and ECMO in the  critically ill.