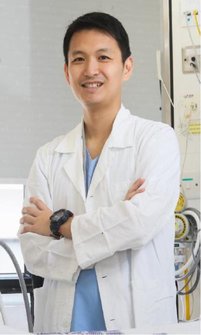 Wai Ching Simon Sin
Dr. Sin Wai Ching, Simon
Email: swc710@ha.org.hk
Hospital Post
2009-now Associate Consultant, Department of Adult Intensive Care. Queen Mary Hospital, Hospital Authority, HK
2014 Deputy Chief of Service (QMH AICU)
2018 Quality and Safety Coordinator, QMH
Education
Specialist in Critical Care Medicine
Accredited fellowship in Critical Care Medicine (2008), Cardiology (2012), Advance Internal Medicine (2009) (Hong Kong College of Physicians)

April, 2017 Fellow of Royal College of Physician of Edinburgh
Dec, 2008 Fellowship of Hong Kong Academy of Medicine
Oct, 2008 Fellowship of Hong Kong College of Physicians (critical care medicine)
Nov, 2004 Membership of the Royal College of Physicians, MRCP (UK)
May, 2001 Bachelor of Medicine & Bachelor of Surgery, MBBS (HK)

Overseas training
Perioperative cardiothoracic care in National Heart Center Singapore 2015

Hospital Authority contributions
ECMO workgroup steering committee 2011-2018 , COC ICU

Hospital Authority Award
1) Outstanding team Queen Mary Hospital 2013: AICU ECMO team leader
2) Outstanding staff Queen Mary Hospital 2016-2017
3) Outstanding staff Hospital Authority 2016-2017

My key contribution for the HK ICU service is to build up a successful ECMO team and lead the service model of ECMO in HK. We were the first ICU started ECMO retrieval and this model was adopted by the Hospital Authority during the swine flu epidemic in the past few years. Then we developed ECMO CPR service that required a high level of collaboration among various departments and we were the only ICU in HK with such structuralized program. We also conducted ECMO training that will be described in the later passage. In 5 years, we have established HK as the top ECMO teaching center in SE Asia.

I have also lead my team to help the other hospitals ( the Grantham , Pok Oi , Ruttonjee and Tsuen Kwan O hospital to develop or enhance their ECMO program ) .These working experience had nourished me to become a leader in ICU.
Expert in ECMO and ECMO education in SE Asia
My contribution to ECMO education is mainly through simulation teaching. I am a simulation educator received simulation instructor training from the Institute for Medical Simulation (IMS), evolved from research developed through a collaborative project between the Center for Medical Simulation and the Harvard-MIT Division of Health Sciences and Technology and Institute for Simulation, Education, and Research (WISER), a world class multidisciplinary training and research facility of the University of Pittsburgh.

I have leaded my team to develop ECMO education and currently Queen Mary Hospital ECMO team is renowned in SE Asia and even worldwide for ECMO education.
We mainly collaborate with the Extracorporeal Life Support Organization (ELSO) which was founded in 1989, It is by far the largest international organization in ECMO .ELSO maintains a registry to provide ECMO services, support clinical research, regulatory agencies, writing guidelines and provides educational programs. I was elected as the Education Co-Chair of the Extra-corporeal Life Support Organization Asia-Pacific Chapter (APELSO) Steering Committee since 2016 to lead the regional education activities.

In 2017, the Department of Adult ICU of Queen Mary Hospital was awarded the Center of Excellence (Gold level award) by the ELSO. This award is the highest level of award presented to hospitals in Asia.

We had run annually the ECMO course endorsed by the ELSO (the only accredited center in Asia from 2014-2016) and my team and myself was invited to instruct ECMO training in various countries, universities and present in conferences as listed below:

Invited speaker and simulation trainer in ECMO
Conference speaker
International
1) ELSO Asia-Pacific conference. Japan , Kyoto 2015
2) EURO-ELSO Netherland 2017
3) 第二届中国医师协会体外生命支持专业委员会年会, Beijing, China
Local
1) Annual scientific meeting HKSCCM 2013 (HK)
2) Scientific Symposium on Emergency Medicine 2016 (HK)
3) Resuscitation Council of HK. Annual Scientific Meeting 2016 ( HK)
4) Critical Care Society Annual scientific meeting 2016 (HK)
5) CardioRhythm 2017 (HK)
6) Annual Scientific Meeting of the Hong Kong transplantation Society 2017 (HK)

Invited as simulation trainer in overseas ECMO conferences
1) ELSO Asia-Pacific conference. Beijing, China 2013
2) ELSO Asia-Pacific conference. Kyoto, Japan 2015
3) The Society of Emergency Medicine in Singapore's Annual Scientific Meeting / International Resuscitation Science Symposium 2016 (SEMS I-ReSS 2016). 2016. Singapore
4) The 12th Hallym-Columbia-Weill Cornell-NYP Symposium on ECMO. Hallym University Medical Center, Korea . 2016
5) ECMO train the trainer course. Hamad Medical Corporation - Weill Cornell Medical College in Qatar 2016
6) The 44th Annual meeting of Japanese Association for Acute Medicine. Department of Surgical Intensive Care Medicine. Nippon Medical School Hospital, Japan 2016.
7) 4th Annual conference Extracorporeal Life support Organization- the South and West Asia Chapter Feb 2017 . Qatar 2017
8) Euro-ELSO congress . Netherland , May 2017
9) Asia Pacific ELSO, Brisbane , Oct 2017
10) Euro-ELSO congress , Prague, May 2018
11) 第二届中国医师协会体外生命支持专业委员会年会, Beijing ,China

Conference speaker (others)

1) Hong Kong Medical Forum 2008
2) Annual scientific meeting. HKSCCM 2011
3) Annual scientific meeting. HK College of Anesthesiology 2012
4) Annual scientific meeting. Department of Anaesthesiology, University of Hong Kong 2013
5) 12th Asian Society of Cardiothoracic Anaesthesiologists (ASCA) scientific meeting, MAsterclass & Workshops Nov 2017
6) Annual Scientific Meeting in Anaesthesiology 2017
7) Third Asia Pacific resuscitation Nurse Conference 2018
College and University contributions
1) Trainer in Critical Care Medicine. Hong Kong College of Physicians
2) Examiner of Hong Kong College of Anesthesiology
3) Hon. Clinical Assistant Prof, Department of Medicine, HKU since 2008
4) Visiting lecturer: School of nursing HK Polytechnic University since 2008

Academic output
Publications
Peer review journal
1. Lee WL, Ho HH, Chan KW, Hai SH, Sin WC, Tam CC, Lam L, Chan HW. Successful use of endothelial progenitor cell capture stents in two cases of acute coronary syndrome complicated by major bleeding episodes.. Int J Cardiol. 2009 May 29. (Electronic publication). Role : participating patient care.
2. Ho PL, Sin WC, Chan JF, Cheng VC, Chan KH. Severe influenza A H7N9 pneumonia with rapid virological response to intravenous zanamivir. . Eur Respir J. 2014 Aug;44(2):535-7. Role : Chief attending physician for patient care.
3. Chen Y, Chan AC, Chan SC, Chok SH, Sharr W, Fung J, Liu JH, Zhen Z, Sin WC, Lo CM, Tse HF, Yiu KH. .A detailed evaluation of cardiac function in cirrhotic patients and its alteration with or without liver transplantation. J Cardiol. 2016 Feb;67(2):140-6. doi: 10.1016/j.jjcc.2015.08.001. Epub 2015 Aug 21. Role : Preoperative patient echocardiography assessment.
4. Ng PY, Sin WC, Ng AK, Chan WM. Speckle tracking echocardiography in patients with septic shock: a case control study (SPECKSS). Crit Care. 2016 May 14;20(1):145. doi: 10.1186/s13054-016-1327-0. Role: Supervisor of this project. This paper received the young investigator award of Hong Kong College of Physician in 2016.
5. Pauline Yeung Ng, Chiu Cheuk Alfred Wong, Karl Young, Yin-Yee Kwong& Wai-Ching Sin. Complication of venovenous extracorporeal membrane oxygenation cannulation – the significance of an inferior vena cava anomalyt. Clin Case Rep. 2016 Dec; 4(12): 1132–1134. Role : chief attending physician, preparing manuscript and corresponding author.
6. Sin WC, M Kwong, WSC Chan, T Wong, CW Siu."Post-Operative ST-segment Elevation: Not a blocked coronary artery, then what?" PostOperative ST-segment elevation: not a blocked coronary artery, then what? Sin WC, Kwong JM, Wong TC, Kwong C, Chan C, Siu CW. Clin Case Rep. 2018 Feb 16;6(4):631-633. doi: 10.1002/ccr3.1116. eCollection 2018 Apr.: Role : chief attending physician , first author.
7. Sin W.C , Karl Young. Development of extracorporeal membrane oxygenation in Hong Kong: current challenges and future development. Editorial. Hong Kong Med J 2017
8. Ngai CW, Pauline Yeung Ng, Sin WC. Bicaval dual lumen cannula cannulation in adult veno-venous extracorporeal membrane oxygenation - Clinical pearls for safe cannulation. Journal of Thoracic Disease Vol 10, Supplement 5 (March 2018): Journal of Thoracic Disease.
Book Chapter
Education Curriculum on Extracorporeal membrane Oxygenation – the Evolving Role of Simulation Training. Advances in Extra-corporeal Perfusion Therapies, ISBN 978-953-51-6256-8.
Presented abstracts
Oral presentation
1) Clinical pulmonary infection score reflects oxidative stress and mortality in patients with pneumonia in intensive care unit. Annual scientific meeting 2009 HK Society of Critical Care Medicine (HKSCCM)
2) Hospital based CPR training is as effective as advance cardiac life support training- A retrospective review of resuscitation outcome in a tertiary referral, university affiliated hospital in Hong Kong. Annual scientific meeting, Hong Kong College of Cardiology
3) ECMO Circuit Efficacy and Complications in patients on ECMO Without systemic Anticoagulation: a Case series in Asian population. ELSO-EURO Rome June 2012
4) Difference in cardiac manifestation between liver transplantation candidates with alcoholic and hepatitis related cirrhosis. European Society of Cardiology, Amsterdam 2013
5) Early extubation to non-invasive ventilation in adult acute respiratory distress syndrome supported by venovenous ECMO improves survival. EURO-ELSO 2015 Best abstract session
Poster
1) Difficult veno-venous ECMO cannulation with unexpected fluoroscopic finding: A case report. ELSO-EURO Stockholm 2013
2) Case report – minimally invasive small-bore chest tube insertion with Seldinger technique for pneumothorax and pleural effusion in ECMO patient: a potential approach to bleeding complication. 1st Conference of the Asia-Pacific Chapter of the Extracorporeal Life Support Organization. Beijing 11 Oct 2013
3) Validation of Crusade score in predicting life threatening bleeding in ECMO patients. ELSO-EURO Paris 2014
4) Bioreactance as a monitoring tool for thoracic fluid content in ARDS patient on VV ECMO. ELSO-EURO Paris 2014
5) An ELSO / APELSO developed ECMO cannulation model: an overview of the cannulation model and the evaluation of a cannulation course. EURO-ELSO Maastricht 2017
Public education in ICU
ECMO CPR interview I-cable TV 31/8/2015
http://cablenews.i-cable.com/ci/videopage/program/12222433/至fit男女/人工心肺機急救/

Therapeutic hypothermia appledaily 15/9/2011
http://hk.apple.nextmedia.com/news/art/20110915/15615498
Updated 13/5/2018